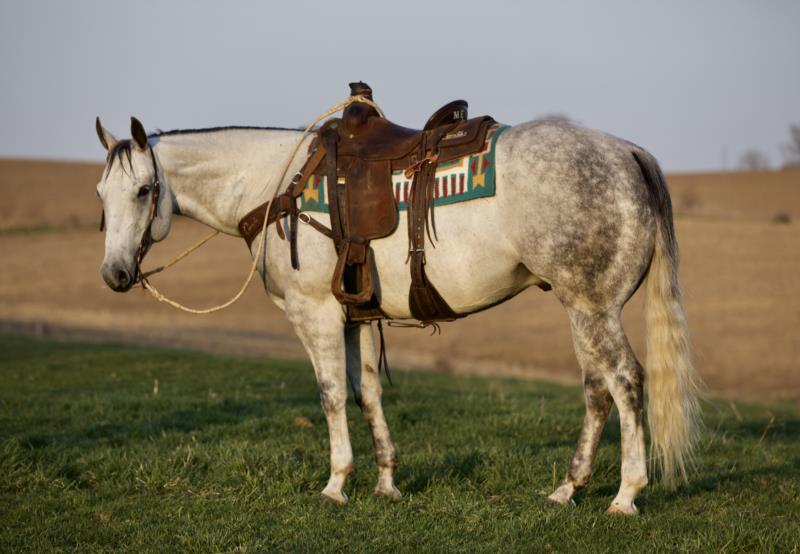 SOLD!
We get calls everyday for horses like Yeti, here is your chance to own a great one! Gee Tee Yetti (Yeti) is a big, gorgeous dapple grey, ranch and rope horse. He is a extremely strong made and big boned gelding. Yeti is 6 years old, stands at 15.2 hands and weighs 1350 lbs. He has great manners on the ground. Yeti has the smoothest most collected lope that is a pleasure to watch and ride. He has a nice handle and moves off of leg pressure well. Yeti does a great job outside and has done all the ranch tasks. He has moved mares and foals, pushed cattle and checked fence. Yeti is well on his way to being a great head horse. Yeti is good in the box, leaves flat and scores well. He is very good minded and talented. He as the size and strength to pull anything. He is ready to be hauled on the head side. Yeti does great on the trails and will cross fallen trees and water with ease. He is sure-footed and easy-going. He is truly a fantastic horse that is very gentle and gorgeous to look at. Yeti is 100% sound, has no health issues and is in the prime of his life. He is located in Bernard, Iowa and we welcome you to come try Yeti before the sale if you are able. Please call Jared at 563-543-6355 with any questions you might have. For more pictures and videos of Yeti please visit Jared Meyer Performance Horses on Facebook and YouTube.
Yeti is consigned to the Best of Texas Horse Sale in Fort Worth, Texas September 9th & 10th, 2022. There is online, phone and in person bidding available. The sale will be held Saturday, September 10th. Please visit the sale website for any informaiton on the sale iteslf or give us a call! https://www.premierhorsesales.com/
Request Information!
---