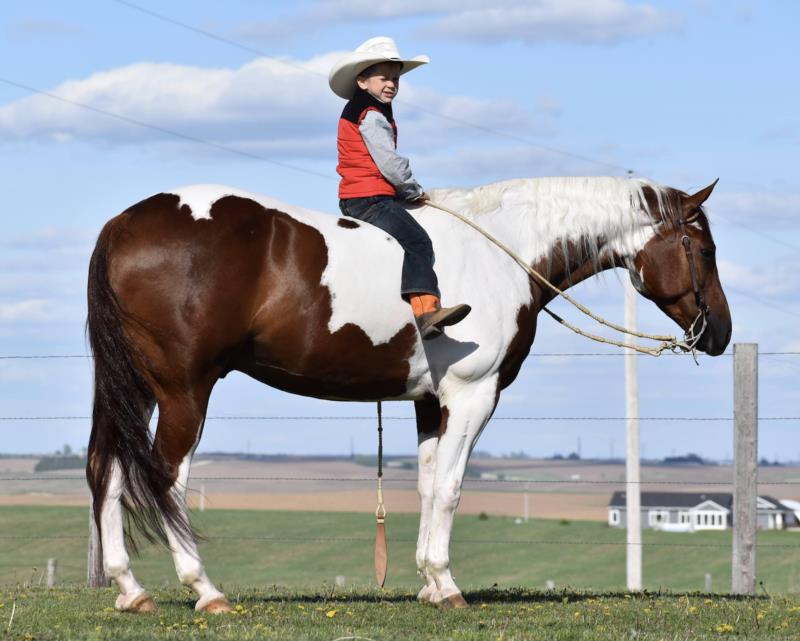 SOLD!
Eyes to the Maker (Mickey) is a absolutely stunning, sorrel and white tobiano paint gelding. His beautiful build and gorgeous coloring gets him noticed wherever he goes! Mickey is truly one of the BEST family horses you can ask for and has all the ability to compete in the show ring in the ranch classes!! Mickey is 9 years old and 15.1 hands. Mickey has the most attractive head, nice shoulder and big hip. Mickey has the softest most balanced trot and most collected slow lope. Mickey will maintain a perfect headset at every gait and moves of the slightest leg pressure. He is incredibly fun to ride and is one that even very young kids feel completely comfortable loping and trotting on. Mickey has a nice performance record started and is a money earner himself. In 2019 he was 6th American Ranch Horse Association (ARHA) World Halter 3-Year-Old & Over Gelding Youth. In 2020 he was 7th Senior Ranch Riding Open and 1st in the nation for Novice Youth Ranch Riding and 2nd in Youth Horsemanship. Mickey's dam had a massive show career and ARHA record by winning the youth world championship in ranch cutting, ranch reining, trail, working cow horse & in working ranch horse. Mickey also has Gallo Del Cielo (LTE $28,438) Topsail Whiz (LTE $49,865.70) and Peppy San Badger (LTE $172,710) on his sire side. Mickey is incredibly smart and versatile. Mickey can even drive a single cart! Mickey has been ranched on and is great on the trails! He stays incredibly calm and will cross anything put in front of him including water and downed logs. Mickey is safe enough out on the trails for beginners. Mickey would be an absolute stand out in the ranch classes and horsemanship and has a good deal of experience being in the show pen. He would be ideal for someone wanting a reliable, talented and trustworthy partner for the show pen. Mickey is absolutely suitable for all ages of riders! He is 100% sound and has no vices. He stands well for a bath, to get shoed and in the trailer. If you are looking for your next best friend that the whole family will adore- Mickey is your guy! We can't say enough good things about this horse! If you would like to ask any questions about Mickey please call Jared at 563-543-6355. Also, if you would like to see more pictures and videos of Mickey please visit Jared Meyer Performance Horses on Facebook and YouTube.

Mickey is consigned to the Best of Texas Horse Sale in Fort Worth, Texas September 9th & 10th, 2022. There is online, phone and in person bidding available. The sale will be held Saturday, September 10th. Please visit the sale website for any informaiton on the sale iteslf or give us a call! https://www.premierhorsesales.com/
Request Information!
---