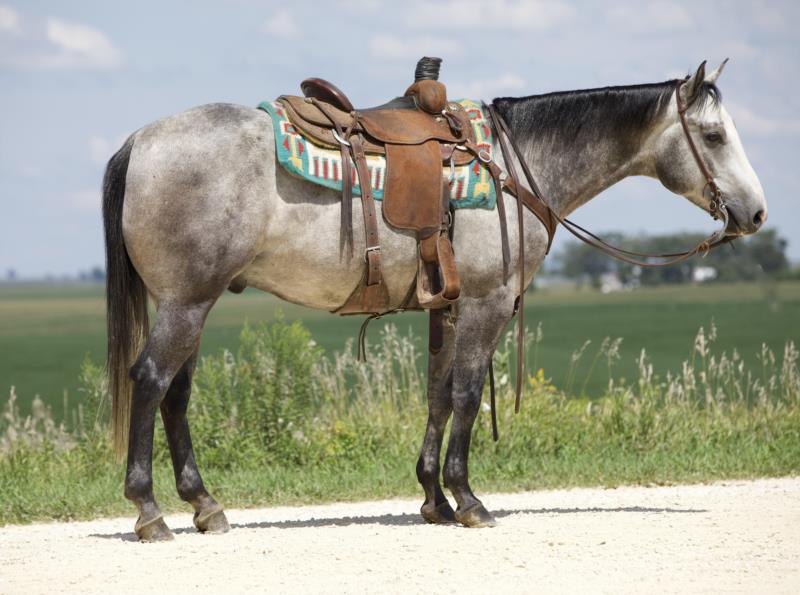 SOLD!
Wranglers Bolly (Wrangler) is a stunning, thick-made, AQHA, grey gelding! He is 4 years old, weighs 1200 lbs and stands the perfect height- right at 15 hands. Wrangler is a grandson of Smart Mate out of Smart Little Lena who has an NCHA LTE of $47,265. Wrangler is drop dead gorgeous steel grey color with a big, white blaze face. He has a very attractive head, strong, level back and big powerful hip! He is light in his hoof to ground contact and goes around very collected and soft at all gaits. He has a very smooth lope and trot that are extremely comfortable. Wrangler moves well off leg pressure and is very willing and always wants to please. We have used him on the ranch to gather cattle, to check cows and check on the broodmare band. Wrangler does great outside and on the trails and has even been used to go shed hunting on. Wrangler will cross creeks and steep ravines with ease. He trail rides very well alone or in a group. He has been rode up and down the roads and he does great with traffic. Wrangler is truly a family horse as he does great with kids and has been ridden by many levels of riders. He is very mature-minded and has no issues with time off. Wrangler has four, strong, black hooves and is 100% sound and healthy in every way! He will stand quiet tied and to be bathed! Wrangler has no vices. He has a very loving personality as he always comes up to the stall door for scratches and to be pet on! We are excited for this beautiful gelding to find his forever home.
If you have any questions on Wrangler or just want to learn more about him, please call Jared at 563-543-6355. Also, please reach out if you are interested in coming to ride Wrangler before the sale at our ranch in Bernard, IA. We would be happy to help arrange shipping of Wrangler anywhere in the U.S.!
Wrangler is consigned to the Best of Texas Horse Sale in Fort Worth, Texas September 9-10th! If you can not make the sale in person- don't worry! You can bid online or on the phone. Here is the link to sign up for absentee bidding: https://www.premierhorsesales.com
Request Information!
---