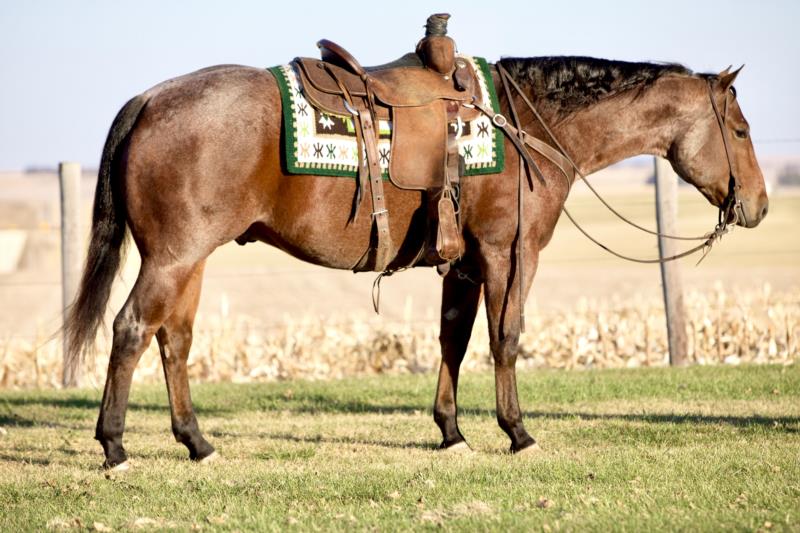 SOLD!
Stetson (Watch Jack of Spades) is a gorgeous bay roan gelding. He stands 15.2 hands and weighs 1350 lbs. This horse is as stout and big boned as they come! Stetson has a very kind eye and is that perfect bay roan color! Stetson is extremely broke and is the perfect age- being 6 years old. Stetson is one-handed broke and has a nice collected trot and slow, balanced lope. He moves off leg pressure well and is all around handy. He rides around very level headed and has an effortless lead departure. He is ready and would be an absolute standout in a show pen in the ranch classes. Stetson has been rode by all different levels of riders and a majority of his training put on him by an older woman. Stetson is a super gentle and easy going. He has been ridden a bunch outside and up and down the trails. He has been used to push cattle and check on the broodmare band. Stetson has also been started on the roping machine and has chased some steers out of the box. He is 100% sound, gentle and has no vices. If you are looking for a horse for the AQHA Ranch Riding classes, trail riding, a family horse, head horse horse prospect or just a nice ranch horse- Stetson is the one! Please give Jared a call at 563-543-6355. For more pictures and videos visit Jared Meyer Performance Horses Facebook and YouTube channel.
Stetson is consigned to the Horseman's Mission Horse Sale in Sullivan, Ohio on November 18th & 19th. If you can't make it in person, there will be online and phone bidding available. Here is a link to the sale website: https://thehorsemansmissionselectsale.com/
Request Information!
---