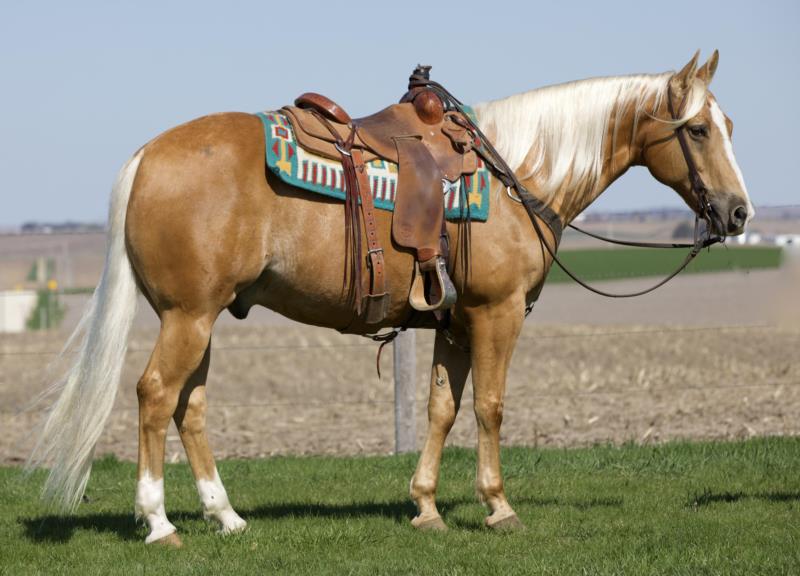 SOLD!
Remington (Santa Got Smart) is the most gorgeous, high quality and trained AQHA gelding! He is a stunning, rich palomino color with a platinum mane and tail. Remington stands 15.1 hands and weighs 1200 lbs. He has a perfect blaze face and two matching white back socks. Remington has a once-in-a-million personality and attitude while riding. He has a fantastic handle and a top-notch neck rein. He is one of the most kindhearted, good minded and athletic horses we have had! He is a trained reiner and been shown in the ranch riding classes. He has an extensive show record. He is an NRCHA and NRHA money earner and has over 21 AQHA points. In 2020 he was the number three AQHA High Point Senior Ranch Riding Level 2 Open horse. He has earned both an Open and Youth Performance ROM. He has AQHA points in Ranch Riding, Boxing, Reining, Horsemanship and youth performance events. He is sired by the great son of Shining Spark- Smart Shiner who earned $51,008 and 52 AQHA points. His dam was a finalist in the NRHA Futurity and has produced 9 money earners. Not only does Remington have an incredible pedigree but he is an absolute pleasure to ride! Remington has been used for sortings etc. He also can be used for team roping on the heel side and does a nice job. Remington doesn't get spooked easily at all. He is great on the trails and has ridden miles and miles through the woods. We have come upon all kinds of wildlife and he has always kept his composure. He is one the whole family can enjoy and suitable for all levels of riders. He is very safe and kind. Remington is 100% sound. Remington has no vices and requires no maintenance or special feed. He stands tied and travels in a trailer well. He is a once-in-a-lifetime horse! If you have any questions on Remington, please give Jared a call at 563-543-6355. If you would like to see more photos or videos of Remington, please visit the Jared Meyer Performance Horse's Facebook and YouTube.
Remington is consigned to the Horseman's Mission Horse Sale in Sullivan, Ohio on November 18-19th, 2022. if you can't make it to the sale in person there will be online and phone bidding availble. Here is a link to the sale website: https://thehorsemansmissionselectsale.com/
Request Information!
---