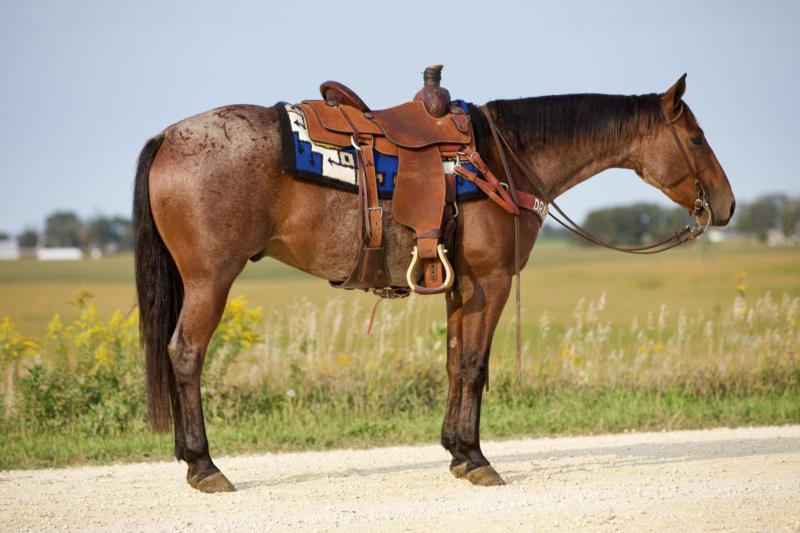 SOLD!
Lena Plain James (Bodee) is an eye-catching, AQHA, bay roan gelding. He has been used on the ranch and on the trails and is an incredible heel horse! He is 4 years old, is the perfect height standing right at 15 hands and weighs 1200 lbs. Bodee has a really nice handle. He moves great off neck rein and off leg cues. Bodee is well bred having Doc's Hickory and Dual Pep on his papers. He is athletic and has a great disposition. He is dog gentle, patient and stands quietly wherever you tie him. Bodee has done everything outside. He has doctored calves on wheat pasture and drug calves to the fire. We have used him as a ranch horse and he has pushed cattle and been used to check the broodmare band with. Bodee has been hauled to jackpots in the heeling. He is a big-time heel horse! He is extremely cowy and good in the box. He always gets noticed at the jackpots as he has a huge stop! He is one that will always put you in perfect position without hardly touching him. Bodee would also be perfect for a breakaway horse and we have breakawayed a few of him. Bodee is great to ride outside and on the trails. He will go wherever you point him. He has no vices and stays broke. He loads easily in the trailer and stands quietly tied. This horse is so special as he is super athletic but has the most laid-back easy-going personality. If you have any questions on Bodee please call Jared at 563-543-6355. Also visit the Jared Meyer Performance Horses website or visit us on Facebook or YouTube for more pictures and videos.
Bodee is consigned to the Triangle Sale in Oklahoma City on October 28th & 29th. He will be shown in the roping preview at the sale. If you cannot make it to the sale in person there will be online and phone bidding available. For more information on the sale, please visit the sale website at https://trianglehorsesales.net/
Request Information!
---