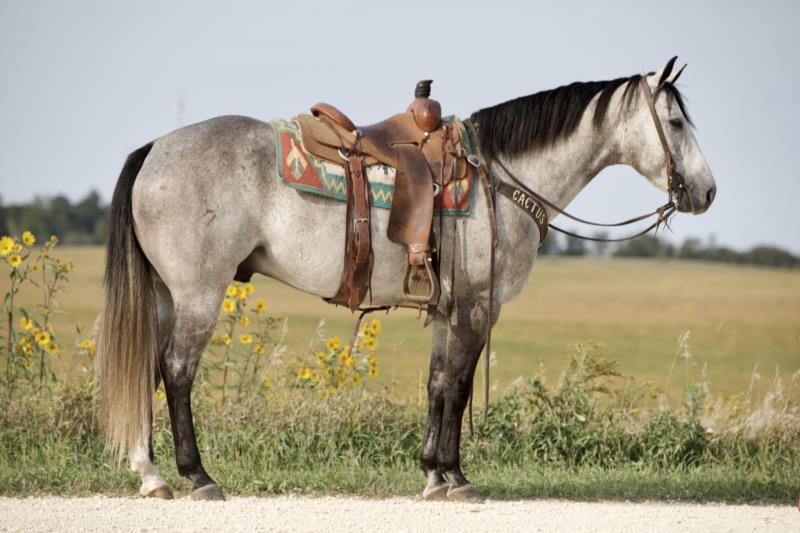 SOLD!
Figure Four X Eight (Ocho) is a big, stunning grey, gelding. Ocho is AQHA registered, 7 years old, stands 15.2 and weighs 1300 lbs. He is extremely stout made and big boned. He has a strong topline and huge hip. Ocho is a beautiful mover who is very balanced in all of his gaits. He is truly a nice horse that is coming along nicely and has his whole life ahead of him. Ocho has been ridden on the ranch and out on the trails. he will push cattle no problem. Ocho will cross downed logs, steep ravines and water with ease. He loves being outside. Ocho is a great ranch horse and rope horse prospect. I think he would also do well in the Ranch Riding and Ranch Versatility classes. He is 100% sound and has no vices. If you are looking for a big, thick gelding you can finish your way or just ride outide- Ocho is your guy! For any questions you may have on Ocho please give Jared a call at 563-543-6355 or visit our Facebook or YouTube channel.
Ocho is consigned to the Triangle Sale in Oklahoma City on October 28th & 29th. If you cannot make it to the sale in person there will be online and phone bidding available. For more information on the sale, please visit the sale website at https://trianglehorsesales.net/
Request Information!