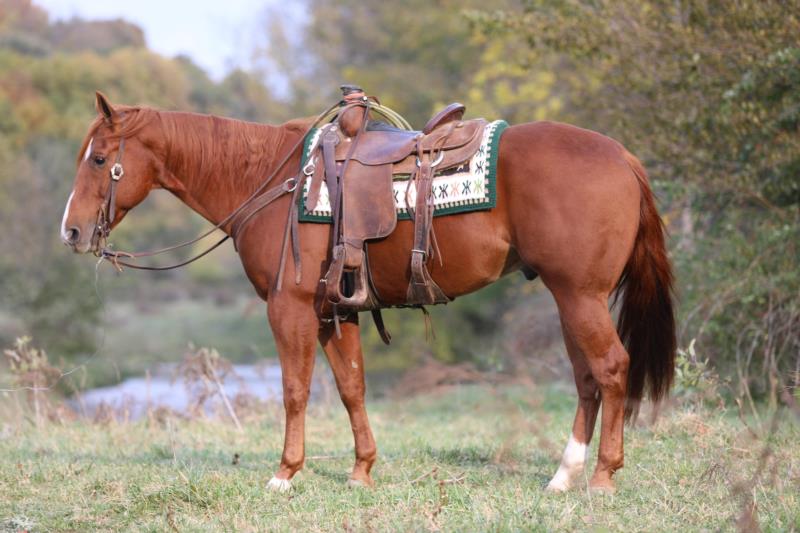 SOLD!
Guy (Guys Nite Out) is a good looking, 7-year-old, AQHA gelding. He is extremely well-bred having Colonels Smoking Gun and Smart Little Lena on his papers. Guy is a finished and seasoned head horse and ranch horse. He stands 15.1 hands and weighs 1200 lbs. Guy has an awesome handle and is extremely broke. He spins well, really has a BIG stop on his hindend and moves easily off leg pressure. Guy is a finished head horse. He is great in the box and puts you into perfect position for every shot. He scores great and is very cowy and level-headed. He also has plenty of speed. He has been ranched on, has pushed cattle and been used to check on the broodmare band. Guy is really great minded and is great on the trails. He is 100% sound and has no vices at all. He loads in a trailer well and stands well for the farrier. If you are looking for a great and athletic all-around gelding, Guy is your gelding! He is prime age and will be an asset to anyone's program! If you have any questions on Guy please give Jared a call at 563-543-6355 or visit our Jared Meyer Performance Horse Facebook, YouTube channel or Website.
Guys Nite Out is consigned to Triangle Horse Sale during the AQHA World Show in Oklahoma City, OK. The sale is live-streamed and there will be online and phone bidding available for those that can't make it to the sale in person. He will be shown in the roping preview!
Request Information!
---