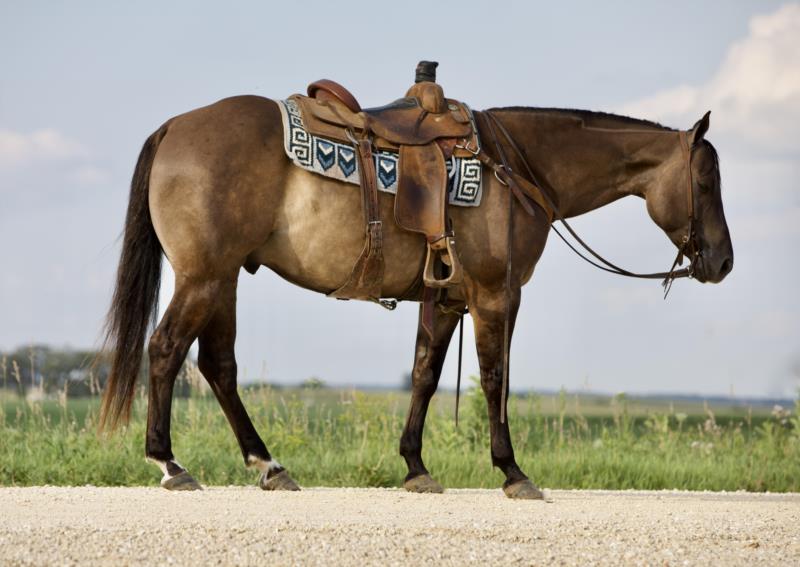 SOLD!
Hollywood (A Spec Of Hollywood) is a gorgeous, grulla, AQHA gelding! Hollywood is 7 years old, stands 15.1 hands and weighs 1300 lbs. He is well bred having Hollywood Dun It (LTE: $65,808) and Peppy San Badger (LTE: $172,710) on his papers. Hollywood is big and shapey. He has a beautiful head, strong back, is stout-made and has a lot of hoof and bone. He also had that beautiful, grulla color that is rare and will get you noticed! Hollywood has been used for all aspects of ranch work including pushing cattle and checking on the broodmare band out in the pasture. We have started tracking the roping machine with him. Hollywood has been ridden outside a great deal and is great on the trails. He will cross anything in his path including a downed log or creek. Hollywood is 100% sound and has never taken a lame step. He stands well for a bath and loads in the trailer great! If you have any questions about Hollywood please give Jared a call at 563-543-6355. If you would like to see more pictures and videos of Hollywood please like the Jared Meyer Performance Horses Facebook and YouTube channel.
Hollywood is consigned to the Diamonds in the Desert Horse Sale in Las Vegas, NV Saturday, December 3rd, 2022! For more information on the sale visit the sale website: https://www.premierhorsesales.com If you can't make it in person, no worries! The sale will be live-streamed and there is online and phone bidding available.
Request Information!
---