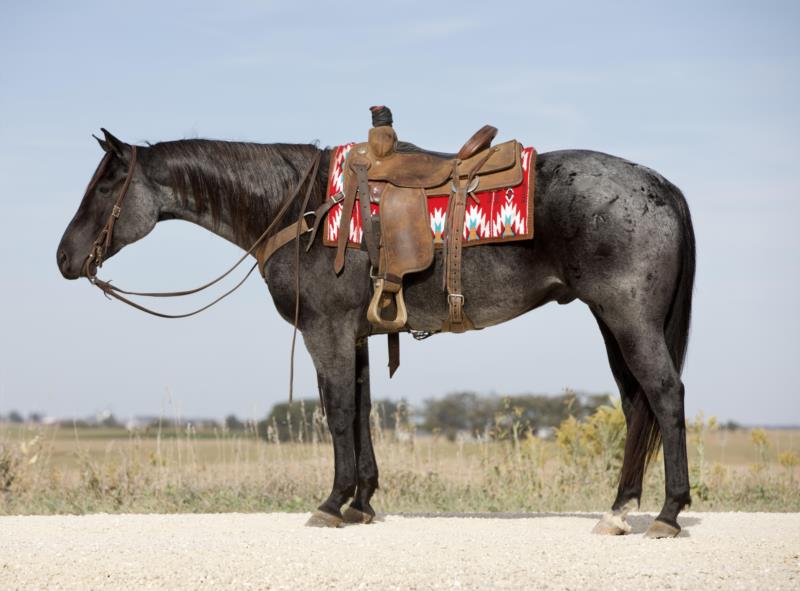 SOLD!
Denali (FQHR Kidco Denali) is a gorgeous, 7-year-old, blue roan, AQHA registered gelding. Not only is Denali easy on the eyes, but he is a started head horse and great ranch gelding with a great personality! Denali stands 15.1 hands and weighs 1250 lbs. Denali is one of the most stunning blue roans I have ever seen. He has a attractive head, is thick made and has a very strong topline. Denali has a fantastic personality and loves to be taken care of and pet on. Denali is smooth at all of his gaits and has a nice handle on him! Denali has been started in the heading and is taking to it well. He has tracked the dummy and started roping live cattle out of the box. He is cowy and is good in the box. Denali has been used as a ranch horse, as well. He has been used to push cattle and to check on the broodmare band out in the pasture. Denali is good to ride outside and does a very nice job on the trails. He will cross anything put in front of him. Denali is intelligent and smart. Denali has no vices and is 100% sound. He does well being turned out with other horses. Denali is great to be around and has a wonderful and calm personality. Denali is the perfect age and the perfect color- what more can you ask for?! If you have any questions on Denali please give Jared a call at 563-543-6355. If you would like to see more photos and videos of Denali, please visit the Jared Meyer Performance Horses website, Facebook and YouTube channel. We are happy to help arrange shipping anywhere in the U.S.!
Denali is consigned to the Cowboy Select Sale in Las Vegas, NV on Friday, December 9th. The sale will be held at Resorts World Casino. The sale will be live streamed and there will be online and phone bidding available. Here is a link to the sale website: https://www.goldspurpro.com/cowboy-select-sale
Request Information!
---