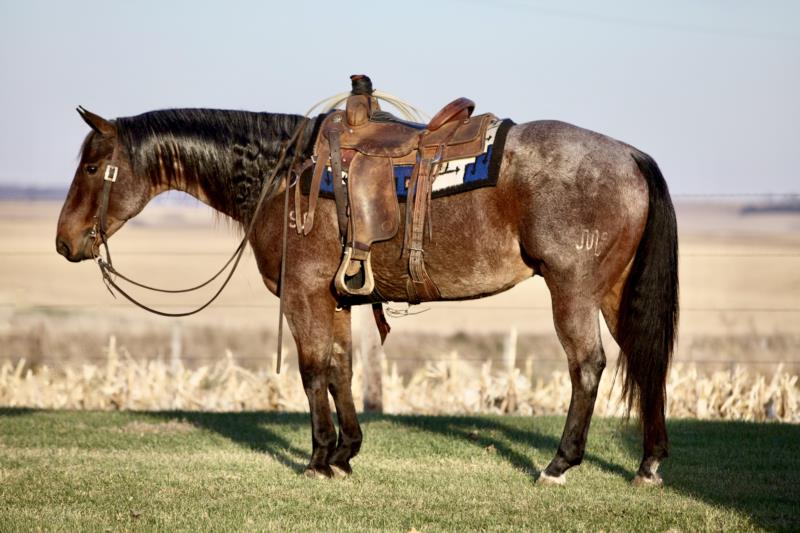 SOLD!
Dog Creek Shibe (Dog) is a gorgeous, bay roan gelding that is finished in the heading, heeling and a top notch ranch horse! He is a 12-year-old and stands right at 15 hands! He is that laid back been-there-done-that horse that everyone wants! Dog has a great handle and is easy for anyone to get along with and ride! He has been ranched on extensively. He also rides out great on the trails weather alone or in a group. Dog is finished in the heading and heeling. He has been there and done that at major rodeos and jackpots across the country. Dog has had a lot of money won off him and has made several finals. He has been hauled this past year to high school rodeos in the team roping. He is great to be around and haul. Easy to catch and easy for the farrier! He will stand tied for hours and just cock a back foot and wait. Kids can ride him and feel very comfortable! He is truly a family horse that everyone will love! He will be a dream horse for a lucky individual or family! If you have any questions at all or just want to learn more about Dog feel free to give me a call at 563-543-6355! For more videos and information on Dog visit Jared Meyer Performance Horses on Facebook and YouTube! We are happy to help arrange transportation of Dog anywhere from coast to coast!
Dog is consigned to the Cowboy Select Sale on Friday, December 9th, 2022 in Las Vegas, NV. The sale will be held at Resorts World Casino. The link to the horse sale website is: https://www.goldspurpro.com/cowboy-select-sale If you can't make it to the sale- no worries! The sale will be live-streamed and there will online and phone bidding available!
Request Information!
---