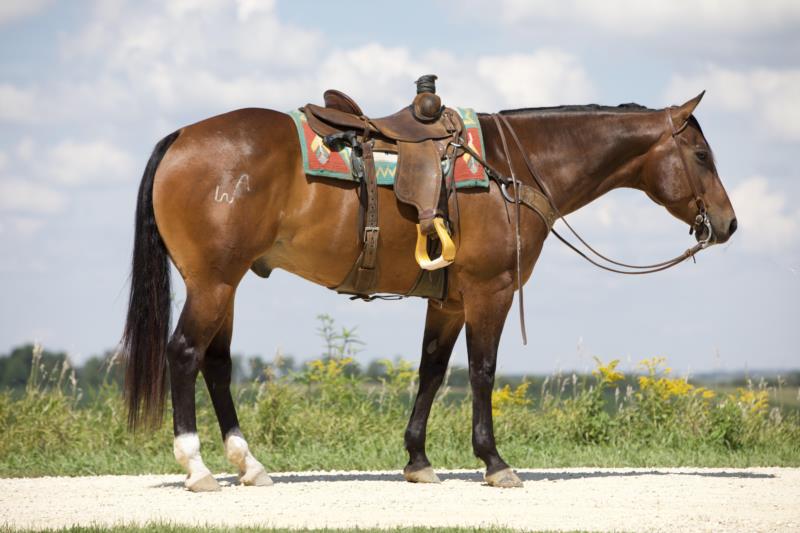 SOLD!
Diesel (WA Docs Dark Eagle) is an absolutely gorgeous, bay, AQHA gelding. Diesel is a finished head horse and fantastic ranch and trail horse. Diesel is very thick-made with a huge hoof and bone. Diesel is 6 years old, weighs 1300 lbs and stands 15.3 hands. Diesel has a strong back, deep heartgirth and big, square hip. He has a star and snip and has two perfect, white back socks. Diesel has Peppy San Badger (LTE: $172,710) and Doc's Hickory (AQHA High Point Performance Horse) on his papers. Diesel is extremely easy to ride. He moves easily off leg pressure. He is so calm and doesn't get worked up about anything. He has a beautiful and comfortable trot and lope. Diesel is a finished head and heel horse! He is super calm in the box. He has a nice amount of run and has no problem handling the steers. Despite his size, we have also been using him on the heel side. He does really well! We have hauled him to jackpots in the heading. Diesel also is great out on the ranch and has been used for all the ranch chores. He has roped cattle outside and has been used to move the cow herd. Diesel is the ideal family horse! Our kids have felt so comfortable riding him and he has given them a lot of confidence. Our 6-year-old son has ridden him through cattle in the pasture and through the creek with no issues. I can't say enough good things about this gelding. If you are looking for a gorgeous, loving and thick-made gelding that you can rope on and do all the ranch chores on- Diesel is the one for you! If you would like more information on Diesel please call Jared at 563-543-6355. For more videos and pictures visit Jared Meyer Performance Horses on Facebook and YouTube.
Diesel is consigned to the Diamonds in the Desert Premire Horse Sale in Las Vegas, NV on December 3rd, 2022. The sale will be live-streamed and there will be phone and online bidding available. If you would like to check out the sale website here is the link: https://www.premierhorsesales.com/
Request Information!
---