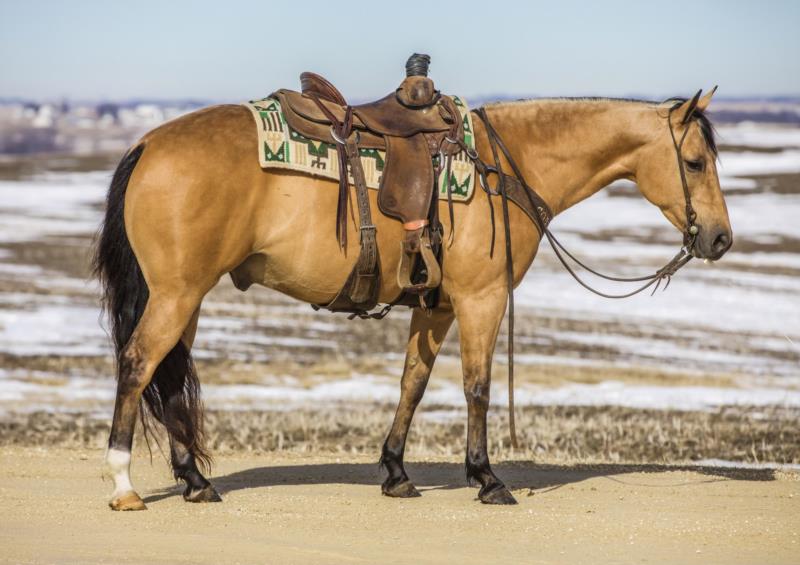 SOLD!
Benz (WWR Dancingstarlight) is a STUNNING, dappled buckskin gelding. He is perfect age being 7 years old and the perfect size standing 14.3 hands! Benz is as gentle as they come and safe enough for anyone to ride him! Benz has one white back sock and a gorgeous, long, black mane and tail. Benz is incredibly well bred being a grandson of Greys Starlight and having Peppy San Badger and Hollywood Dun It on the bottom side. Benz has the perfect personality! He loves being pet on and always has his head over the stall door looking for attention. He is so safe to be around and to handle. He is one you feel comfortable having your kids do anything with. Benz is a beautiful mover with a soft trot and rocking horse lope. He rides around very collected. Benz has a naturally level headset. He is always bright and positive in his expression. Benz has been shown by a young lady in local shows in the ranch riding and ranch versatility classes. He would excel in the AQHA ranch riding class. Benz is as safe of a horse and you can find! He is level-headed, kind and always maintains his relaxed demeanor. Benz is good on the trails and has been used to push cattle. He is sure -footed and doesn't get worked up about much. Benz is truly one of the safest and best mannered geldings we have offered. He is one the whole family will enjoy and love looking at and riding. If you have any questions on Benz please give Jared a call at 563-543-6355. For more pictures and videos of Benz please visit Jared Meyer Performance Horses on Facebook, YouTube and our website. We are happy to help arrange transportation anywhere in the US!
Benz is consigned to the Southern Belle Classic Invitational Horse Sale in Aiken, SC on March 24-25th. If you can not make it to the sale in person, there will be online and phone bidding available. Here is the link to the Southern Belle webstie for more information about the sale: https://southernbelleclassic.com/
Request Information!
---