About Us
Jared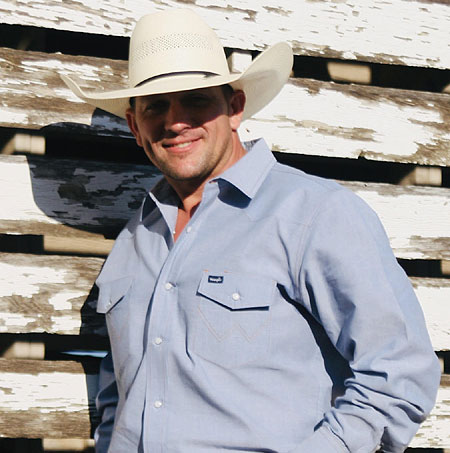 Jared Meyer's passion for horses started at a young age. Jared began riding before he could even walk with the support of his grandpa, dad and uncles. His grandpa (Merlin Meyer) and father (Dennis Meyer) were very active in the horse community. Growing up Jared attended countless horse fun days, rodeos and horse sales with his family. In high school, Jared and his brother Joel competed in Saddle Bronc with the Wisconsin High School Rodeo Association. After high school, Jared attended Laramie County Community College in Cheyenne, WY and received a degree in Equine Management and Training. While in college, Jared was very successful riding saddle bronc horses on their rodeo team. After college, Jared and his brother Joel began training and marketing horses together at their family ranch in Bernard, IA. In 2020, Jared started his own company, Jared Meyer Performance Horses. Currently, Jared is active in the PRCA in the team roping specifically as a header and rodeos a great deal in the summer. Jared is currently training his personal horses. He specializes in training high-quality ranch, roping, trail and family horses. Jared also owns and manages a broodmare band on the 35-acre pasture behind the home farm.
Ashley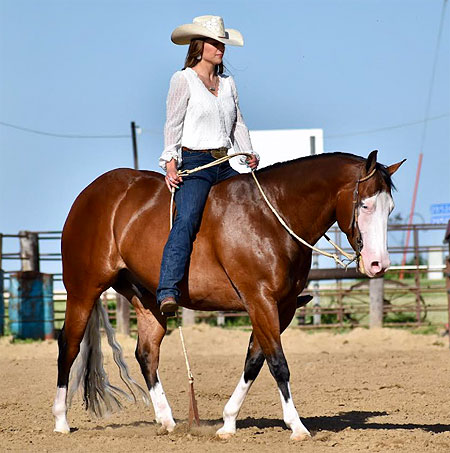 Ashley's passion for the equine industry began at a young age, showing in local 4-H shows, competing in High School Rodeo in Wisconsin and eventually showing in the AQHA circuit. Ashley began judging in FFA and competed in Livestock and Horse judging. Deciding to pursue judging in college, Ashley continued on to Black Hawk College in Kewanee, IL where she became a part of the judging and IHSA (Intercollegiate Horse Show Association) team. While there, she was fortunate to be on the Junior College World Champion team. Continuing on to finish her undergrad education, Ashley brought her studies south to attend West Texas A&M University in Canyon, TX. There she was also a part of the judging team and IHSA show team. Her judging team was both the World Champion Senior College and NRHA Futurity Champion team. Interested in coaching and teaching, Ashley went for her Master's in Equine Nutrition at New Mexico State University. There she served as a graduate teaching assistant and coached the Horse Judging Team there. Ashley got her AQHA Level 1 judging card right after college and started working for Purina Animal Nutrition in Eastern Iowa working with largely equine accounts. Late 2021 she started a career with Kemin Industries where she sells feed ingredients to horse feed manufactures across the nation. Ashley judges a good number of horse shows though out the year and enjoys helping Jared with the horses, spending time with friends and family and traveling.
Grace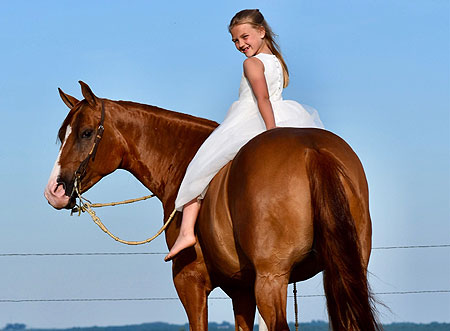 Grace is a huge helper around the ranch and takes a tremendous amount of our horse sale videos. She keeps keep the truck and trailer organized and loves overnight adventures. Grace loves riding, doing hair and enjoys playing with her friends.
Colton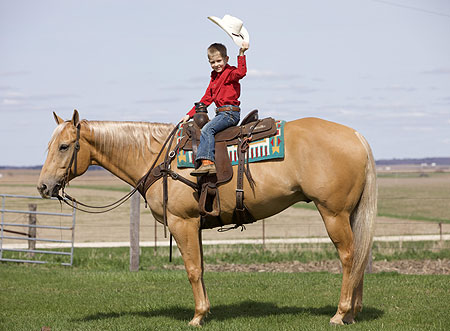 Colton loves anything cowboy and follows his dad everywhere around the farm and always keeps Jared company in the tractor! As soon as he gets home from school he jumps in his jeans and puts on his cowboy hat and has to go see what's going on in the barn. He loves riding, tracking the roping dummy, pushing up cattle and his dog JoJo.