Welcome to

Jared Meyer Performance Horses
Jared Meyer's passion for horses started at a young age. Jared began riding before he could even walk with the support of his grandpa, dad and uncles. His grandpa (Merlin Meyer) and father (Dennis Meyer) were very active in the horse community. Growing up Jared attended countless horse fun days, rodeos and horse sales with his family. In high school, Jared and his brother Joel competed in Saddle Bronc with the Wisconsin High School Rodeo Association. After high school, Jared attended Laramie County Community College in Cheyenne, WY and received a degree in Equine Management and Training. While in college, Jared was very successful riding saddle bronc horses on their rodeo team.
After college, Jared and his brother Joel began training and marketing horses together at their family ranch in Bernard, IA. In 2020, Jared started his own company, Jared Meyer Performance Horses. Currently, Jared is active in the PRCA in the team roping specifically as a header and rodeos a great deal in the summer. Jared is currently training his personal horses. He specializes in training high-quality ranch, roping, trail and family horses. Jared also owns and manages a broodmare band on the 35-acre pasture behind the home farm.
Click For More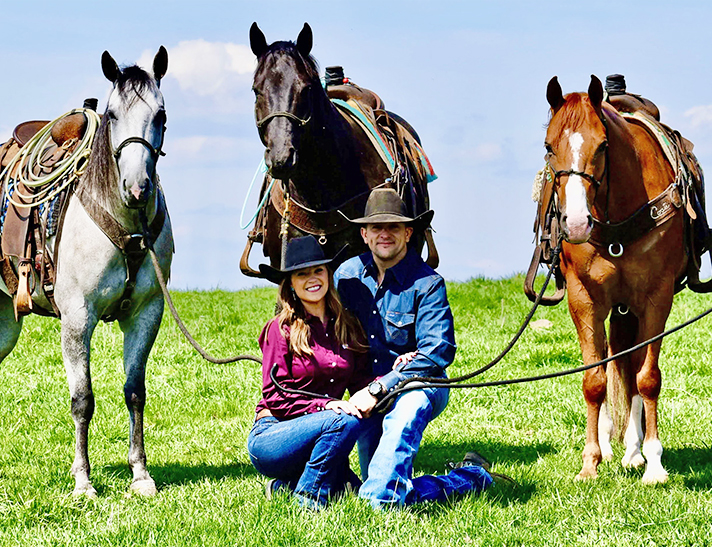 Happy Customers
...Bunny is everything Jared told us she was. He represented her 100%. She's absolutely perfect in everyway. Since then, we have bought 4 more from him - Quincy, Skipp, Henry and Chester. We bought them ALL sight unseen and EVERYONE of them was just what Jared told us. In the horse world today that's hard to find. We have and will continue to recommend Jared Meyer to anyone. He's a man of his word and we now consider him a great friend...

We purchased our horse from Jared Meyer Performance Horses through a local auction sale here in Arizona. We were immediately impressed with how this horse moved, his confirmation and calm demeanor. What struck us the most was how refined his riding skills appeared to be. It is clear to us that Romeo was well respected and treated well, while being trained to be an all-around great and safe horse to ride. We could not be happier with Romeo! It really comes down to the training and refinement put in by Jared and Ashley.

We had been looking for a nice horse for our granddaughter for about a year....Then came along, Frank. We went to see him without her just in case he wasn't the one, as she falls in love with all of them. Instead, I fell instantly in love with him, his personality and his looks. We got him in the next day or two and as of today, he is absolutely everything Jared said he was plus a little more.... she has been showing him at the small local shows since May and they are both doing great. He follows her around like a puppy dog and is willing to learn anything we throw at him. So, to sum it up, Jared Meyer Performances Horses found us what I believe to be her heart horse for many years to come. Thank you for that.

We couldn't be happier with this sweet boy! Gin is a special boy, my daughter had an instant connection with him from the very beginning and it just keeps on getting stronger. He is such a well-trained horse who has a steady temperament. He is gentle, calm, responsive, and all around the perfect fit for us. His canter is smooth and family trail rides with him are so enjoyable. Thank you, Jared Meyer Performance Horses, for producing such a perfect addition to our family! We have one very happy girl!

So grateful for my 3rd horse from Jared. Skip the skepticism when buying from Jared. His horses are EXACTLY what he says they are! Thank you, Jared for our 3rd addition.