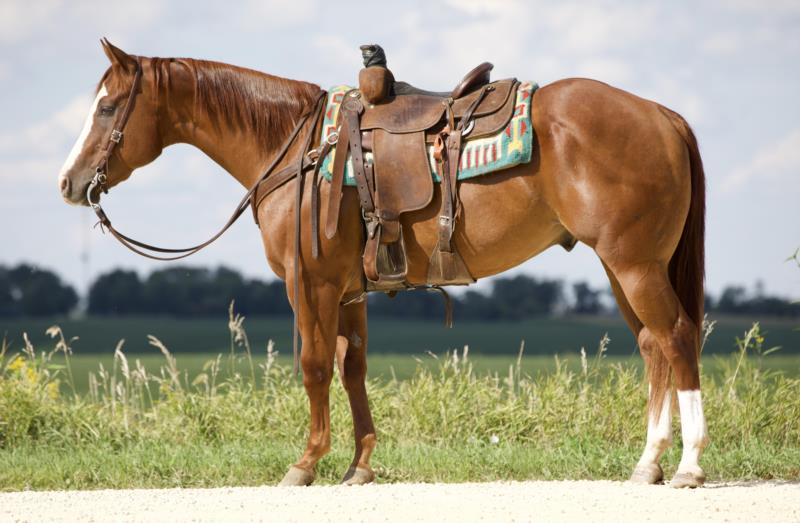 SOLD!
Milo is an absolutely beautiful, 6-year-old, AQHA gelding. He is gentle, been ridden on the trails and ranched on. Milo is built conformationally correct with a strong back, deep heartgirth and big, square hip. He has a perfect blaze face and two identical back white socks. Not only is Milo extremely attractive, but he is gentle and broke well. He has a balanced trot and lope and moves off leg pressure well. Milo has been used to ranch on and used to check on the broodmare band and push cattle. He does a great job outside and on the trails and takes steep or rough terrain with ease. He also stays calm and is trustworthy while on the trails and can be ridden out alone or in a group. Milo is easy going and does well when left off. He is also good and safe for anyone to ride and enjoy. Milo is 100% sound, has no vices and is in the prime of his life being 6 years old. Milo would make a great AQHA ranch riding horse as he is showy, has a nice handle and balanced gaits. If you are looking for an absolutely stunning, gentle horse that is good outside- Milo is your guy! Please call Jared with any questions you might have 563-543-6355 or visit Jared Meyer Performance Horses at Facebook and YouTube for more pictures and videos.
Milo is consigned to the Horseman's Mission Horse Sale in Sullivan, Ohio on November 18th & 19th. If you can't make it in person, there will be online and phone bidding available. Here is a link to the sale website: https://thehorsemansmissionselectsale.com/ Give us a call if you have any questions!
Request Information!
---