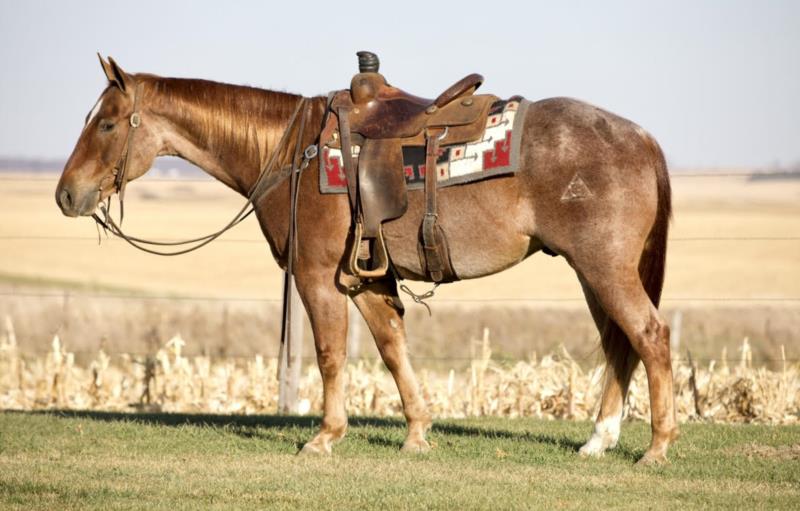 SOLD!
Rainbow Diamond Rio (Sterling) is a gorgeous, 5-year-old, AQHA red roan gelding! Sterling is the perfect height being right at 15 hands. He thick-made, has a strong topline and is big boned. Sterling is that beautiful strawberry roan color that is easy on the eyes. He also has a perfect diamond shaped star on his forehead and one back white sock. Not only is Sterling gorgeous, but he is gentle and kind. He always meets you at the stall door to be pet and loved on. Sterling also has a nice handle! He moves easily off leg pressure. Sterling has a great personality being quiet, friendly and quick to learn. Sterling is great on the trails. He is confident and will cross fallen logs that are in front of him. Sterling has been hauled to a few shows. He has also had the rope thrown off him a couple times. He would be a good one to finish in the roping or ranch riding. He has great manners on the ground and will stand tied all day. Sterling stands well for the farrier and for the vet. He loads and rides well in the trailer. Sterling has no vices and is 100% sound. If you are looking for a beautiful and kind gelding that could go any direction- Sterling is your guy. If you have any questions about Sterling please give Jared a call at 563-543-6355. If you would like to see more videos or photos of Sterling please visit Jared Meyer Performance Horses on Facebook, YouTube or our website.
Sterling is consigned to the Northern Star Horse Sale on February 2-4th, 2023 in Cannon Falls, MN. Visit the Northern Star Horse Sale website for more information about the sale: https://www.northstarhorsesale.com/?utm_source=google&utm_medium=wix_google_channel&utm_campaign=19188932087&gclid=Cj0KCQiAnNacBhDvARIsABnDa6_d-cPyxlIUaPSz0mt0MAwWK4MMp4iFOgC3g1l25AMUoYsBJXohVKcaAkMVEALw_wcB
Request Information!
---