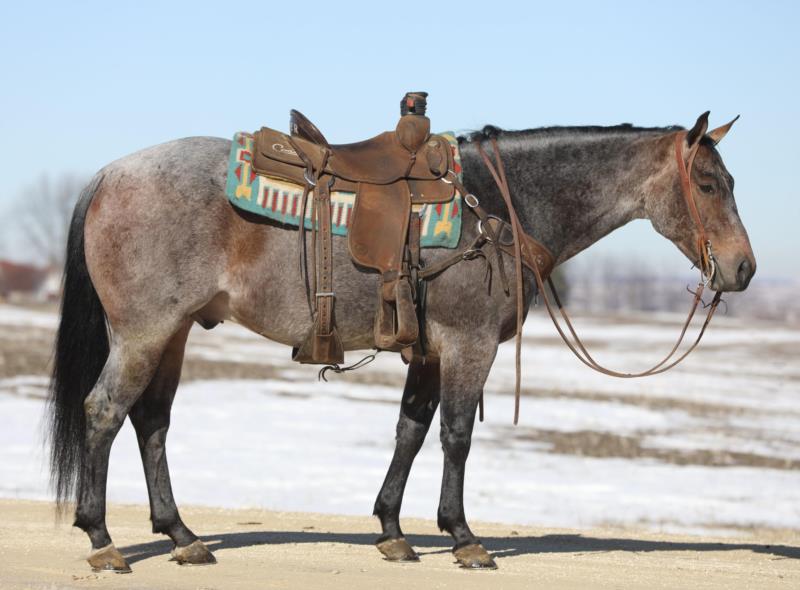 SOLD!
Rattler (Pepitos Smart Rattler) is a beautiful, bay roan, AQHA gelding. He is 6 years old and stands right at 15 hands. Rattler is incredibly broke and has been used for a little bit of everything! Rattler is well bred having Peptoboonsmal on the top side and Smart Little Lena on the bottom side. Rattler is fantastic on the ground and will stand quietly all day if you ask him to. Rattler is very handy broke. When he was three years old, he had a couple months reining training put on him. Because of this, he has a great stop, rides around with a level headset and effortless transitions. Rattler is safe for any level of rider or for kids to enjoy and learn on. Rattler has been successfully shown in various ranch classes and ranch horse competitions. Rattler has also been used to ranch on. He has been lightly roped off of and has been used to drag calves to the fire. He is great outside and feels at home out on the trails! He will cross anything put in front of him including downed trees, rough terrain or even creeks. He doesn't get worked up and has a laid-back personality. Rattler is 100% sound, has good hoof and bone and has no vices. He is so easy to be around, no matter what the task. He is safe for the beginner rider. He is good for the farrier and good to load and haul. Rattler is in the prime of his life and is truly that all-around horse anyone can have fun with and enjoy! If you have any questions or would just like to learn more about Rattler give Jared a call at 563-543-6355. For more videos and photos of Rattler visit the Jared Meyer Performance Horses website, YouTube channel or Facebook page.
Rattler is consigned to the Southern Belle Classic Invitational Horse Sale in Aiken, SC on March 24-25th. If you can not make it to the sale in person, there will be online and phone bidding available. Here is the link to the Southern Belle webstie for more information about the sale: https://southernbelleclassic.com/
Request Information!
---