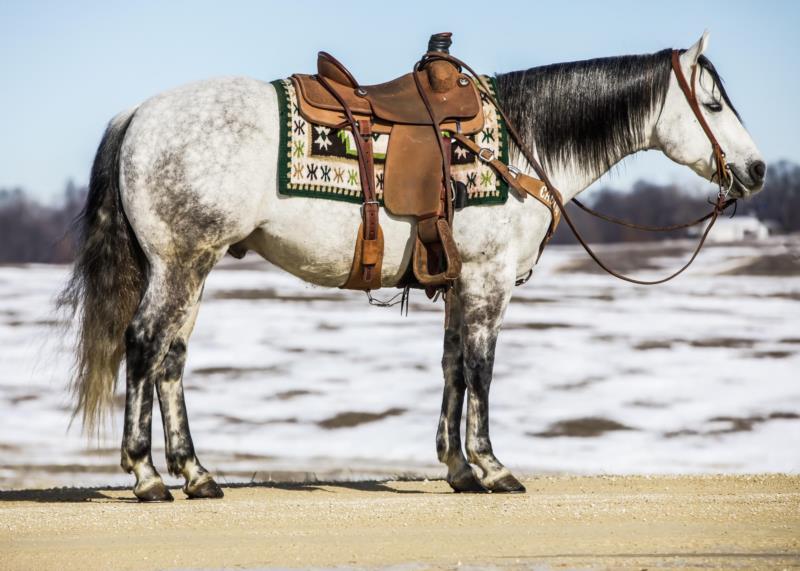 SOLD!
JudgeCaughtMeSpeedin (Pac-Man) is a stunning, 10-year-old, AQHA gelding. He is a beautiful grey color with an eye-catching black mane and tail. He is perfect height being right at 14.3 hands. Pac-Man has a very handsome head, has a strong topline and big hip. He is easy to be around on the ground. Pac-Man is very gentle and has a nice handle. He has a collected lope, will change leads and is smooth at all his gaits. He would really excel in a ranch riding class. He has also been started in the barrels. Pac-Man is good on the trails and has been used in the high country. Pac-Man has been used as a ranch horse from pushing cattle to checking fence. He has even been roped on lightly. He is good on the trails and will cross anything put in front of him. He is very gentle and good for anyone! Pac-Man is easy to get along with and the perfect size. Pac-Man is 100% sound and has no vices! He loads well and will stand tied all day. Don't miss out on this gorgeous, good-aged gelding! If you have any questions or would just like to learn more about Pac-Man give Jared a call at 563-543-6355. For more videos and photos of Rattler visit the Jared Meyer Performance Horses website, YouTube channel or Facebook page.
Pac-Man is consigned to the Southern Belle Classic Invitational Horse Sale in Aiken, SC on March 24-25th. If you can not make it to the sale in person, there will be online and phone bidding available. Here is the link to the Southern Belle webstie for more information about the sale: https://southernbelleclassic.com/
Request Information!
---