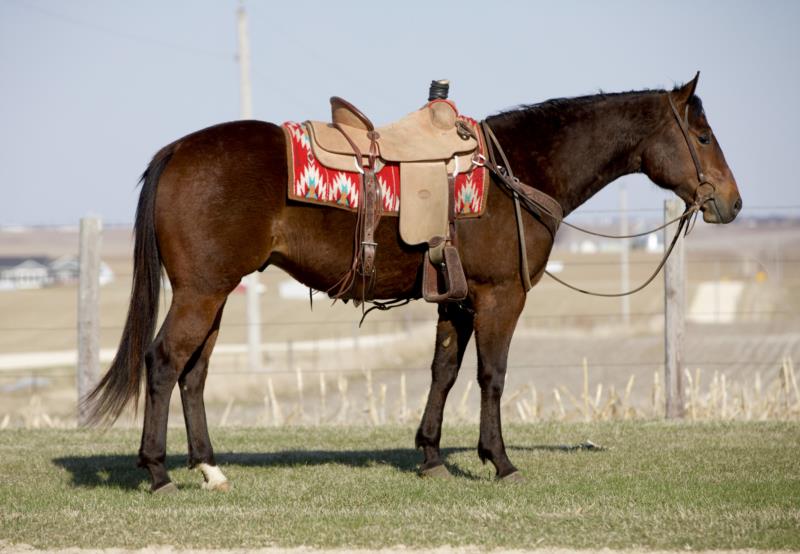 SOLD!
Jack The Bartender is a handsome, home-grown, three-year-old gelding. He is a beautiful bay color, has a large star and one back sock. He had a big kind eye and is very well-balanced with a short back and huge hindend. He curently stands 15h. He is from the last foal crop by Bartender Joe Jack, the stud we stood at our ranch for many years that produced great ranch and rope horses. He will have 4 months of professional riding training by sale day. Jack The Bartender has a solid and great start- he trot and lope nice circles, has a good stop and good start to a spin. He has also been ridden a good deal outside in the pasture and woods and does very well! He will cross logs with ease. He is proving to be a very quick learner and a great roping or ranch horse prospect. Jack The Bartender is HPI eligible! He stands as still as a statue when tied and has impeccable ground manners. He is great in the stall, 100% sound and has no vices. If you have any questions please call Jared at 563-543-6355.
Jack The Bartender is Lot 267 in the Pitzer Ranch Horse sale on April 22nd, 2023 in Ericson, Nebraska. The sale will be live-streamed and where will be online and phone bidding available! Here is a link to the sale website for any questions- https://pitzerranch.net/sales/
Request Information!
---