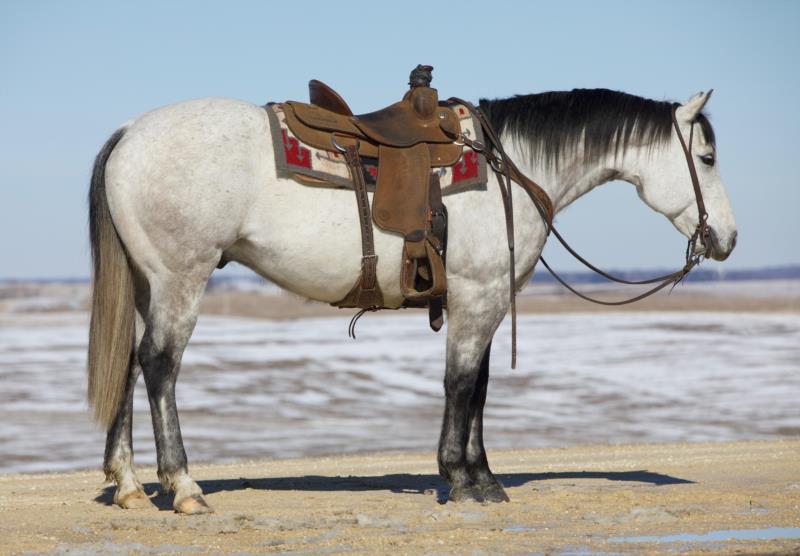 SOLD!
Iceman (Sagevel) is an eye-catching, grey, AQHA gelding. Iceman is a fantastic ranch and rope horse! This horse is thick and has a ton of hoof and bone. Iceman is 8 years old and easily weighs 1300 lbs and stands 15.1 1/2 hands. He has a beautiful head, huge heart girth and big, square hip. Iceman was raised on the ranch and has done all the ranch work. He has been used to rope cattle outside and has been very well started in the heading in the area. He is good in the box, is cowy and has plenty of run. Iceman has been ridden a great deal outside and handles steep terrain and crosses logs with ease! He is a beautiful gelding and a nice ranch horse. He is great in a stall or turned out. He has no vices. If you have any questions about Iceman please contact Jared at 563-543-6355. If you are looking for more photos and videos of Iceman make sure to check out our website at www.jaredmeyerperformancehorses.com or our Facebook business page.
Iceman is consigned to the Triangle Horse Sale in Oklahoma City, May 6th, 2023. He will be shown in the roping preview. There will be online and phone bidding available if you arnt able to make it to the sale in person. Here is the link to the sale website: https://trianglehorsesales.net
Request Information!
---