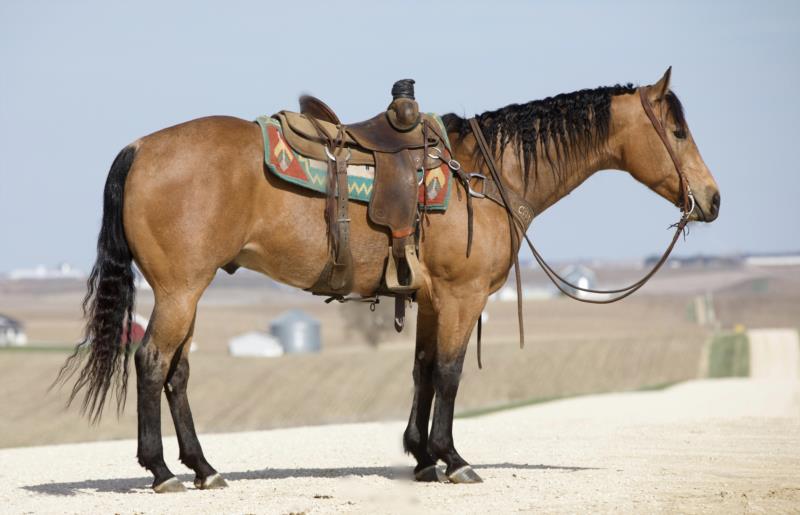 SOLD!
Dutton (Rekindlemysunrise) is a beautiful buckskin, AQHA gelding. Dutton stands 15.2 hands tall and weighs 1200 lbs. He is a great age being right at 7 years old. Dutton has a nice smooth, rhythmic trot. He also has a nice stop and free-flowing walk. Dutton has been ridden mostly on the ranch and outside. He handles steep terrain and obstacles with ease. He will cross downed logs without trouble. Dutton should excel in any direction you want to take him. Dutton is really good to be around on the ground- he is easy to catch and stands tied quietly. He is good to bathe and groom. Dutton is 100% sound and beautiful. If you have any questions about Dutton please contact Jared at 563-543-6355. If you are looking for more photos and videos of Dutton make sure to check out our website at www.jaredmeyerperformancehorses.com or our business Facebook page. We encourage you to come meet and ride Dutton. We welcome visits to our ranch in Bernard, Iowa.
Dutton is consigned to The Horseman's Mission Horse Sale in Sullivan, Ohio. He is lot 37 in the sale. Preview will be Friday, May 12th and the sale will be Saturday, May 13th. There will be online and phone bidding available.
Here is a link to the sale website for any additional information: https://thehorsemansmissionselectsale.com
Request Information!
---