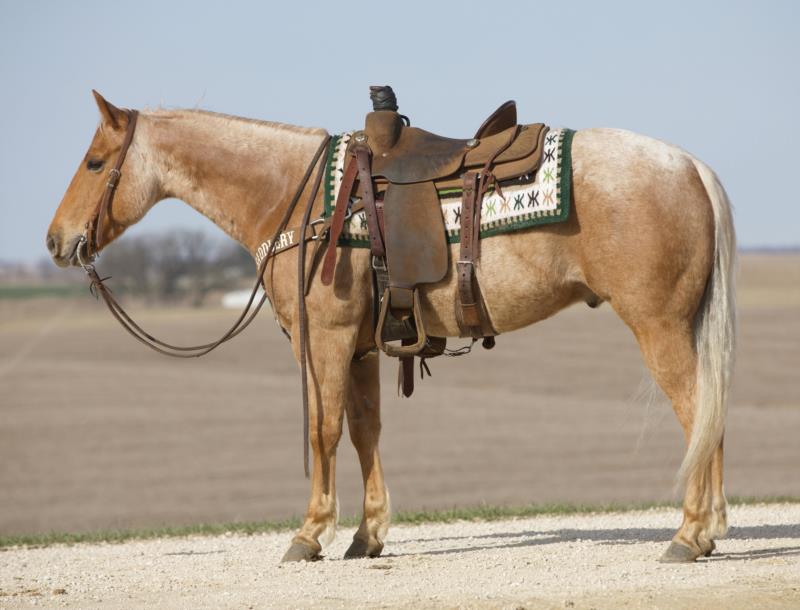 SOLD!
Cee Hickorys Gold (Rex) is a cute, 7-year-old, palomino roan gelding. Not only is he that rare, hard-to-find color, but he is such a unique size standing 14.1 hands. Rex has a strong topline and hip. Rex has a nice, smooth, balanced trot and lope. He has a naturally level headset and will bridle up well when asked. He is athletic and would be great for play days. He has been exposed to and worked cattle and would be great for team penning. He has been ridden a lot outside and does a nice job! He will cross fallen trees and steep hills with no problem. He has been used to ranch on and has been used to check the broodmare band. He is great on the ground, good to bathe and loads in the trailer well. He will stand patiently tied all day. Rex is 100% sound! He has a ton of potential and one that can be finished out your way! If you have any questions or want any more information about Rex please call Jared at 563-543-6355. We can help arrange shipping anywhere in the U.S.
Rex is consigned to the Horseman's Mission Horse Sale in Sullivan, OH on April 13th. The sale will have online, phone and in person bidding. The sale will be live-streamed. Visit the sale website for more information about the sale: https://thehorsemansmissionselectsale.com
Request Information!
---