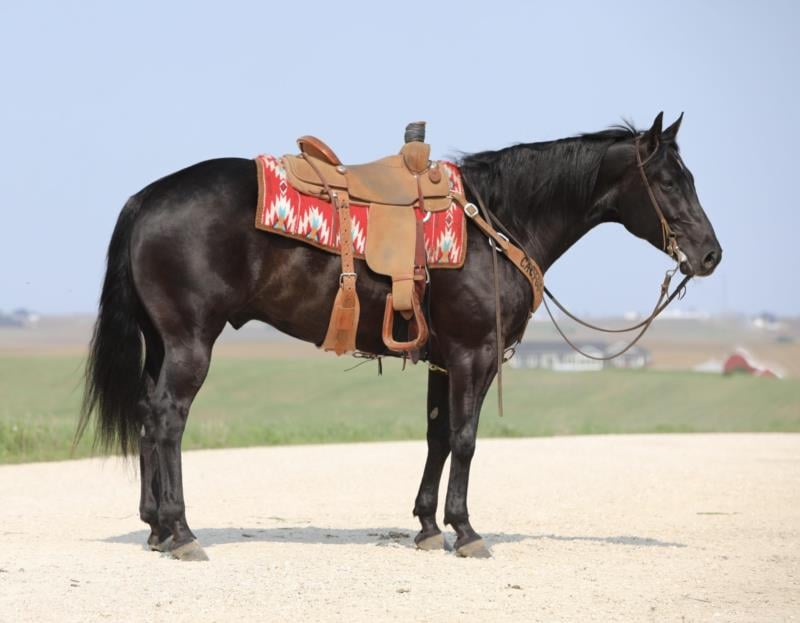 SOLD!
Tux has impeccable conformation! He also has a nice handle and rides around very collected at the trot. He has a smooth lope departure and has a level head set at all gaits.
Tux is an awesome trail horse! He does fantastic outside. He has been ridden many miles on the trails. He crosses water and stays calm and level-headed on the trails. He also does well with trail obstacles.
Tux has been used on the ranch to push cattle and check on the broodmare band. He would be fantastic roping prospect considering his size and athleticism. He is very good and calm working cattle.
Tux would also be a great prospect for the AQHA ranch riding classes. He has a nice spin and stop. He also has a cool, ground-covering extended trot. He has that showy look that will definitely get you noticed in the show pen!
Tux is kind, gentle and willing! He is 100% sound. He does well in a stall or turned out with other horses. Loads well in the trailer and has no vices!
Please contact Jared at 563-543-6355 for more information on Tux!
First come first serve!
Request Information!
---