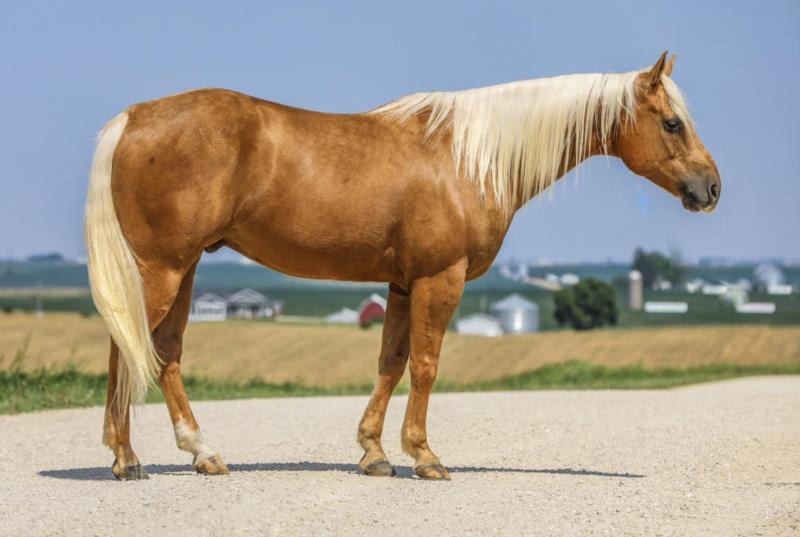 SOLD!
Looking for a head horse that is safe enough for anyone to ride on the ranch or trail? Cowboy Peppy Bar (Cowboy) is a drop dead gorgeous, rich-colored, palomino gelding with a flowing white mane and tail! He is the perfect been-there-done-that age being right at 8 years old. Cowboy stands 15.2 hands and is thick-made weighing 1,250 lbs. He has a large, kind eye, strong back and big hip. Cowboy is a great head horse. He scores well and has a lot of run, rates well and has a snappy face. Cowboy has been used on the ranch to gather, sort, and drag cattle. He has also been used to check on our broodmare band. He is the one we pick when there is a job to be done as he is one you can count on! Cowboy has seen a lot of trails and has even been used for trail rides on the Big Horn Mountains and did phenomenal! Cowboy is good with time off and is always the same horse. He is loving and kind and meets you at the gate for attention and to be pet. If you are looking for a gorgeous gelding to take to trail rides and one you can win money in the roping on- Cowboy is your guy! Cowboy is 100% sound, has no buck and has no vices. We are you are confident you will love this guy! If you have any questions on Cowboy please call Jared 563-543-6355. We welcome people to come meet and ride Cowboy at our ranch in Bernard, Iowa.
Cowboy is consigned to the Patriot Select Performance Horse Sale in Cheyenne, Wyoming July 26th, 2023.
Request Information!
---