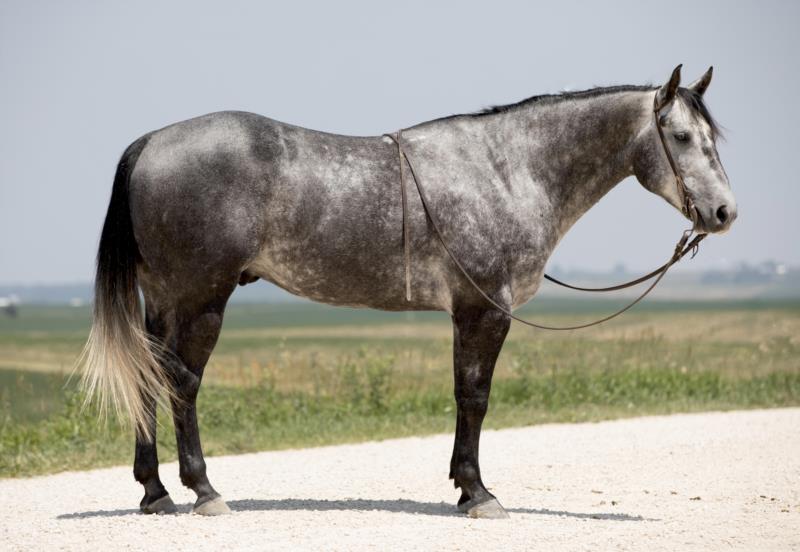 SOLD!
Ranch, trail ride or AQHA ranch riding prospect! Got Them Denim Blues (Riggins) is a STUNNING, five-year-old, grey AQHA gelding. Riggins is built very conformationally correct! He has an attractive head, strong back and huge hip! He is the perfect height standing 15 hands and weighing 1150 lbs. He is think made and well muscled. He stands on a straight column of bone and has big, solid hooves.
Riggins easily becomes your go-to horse. He has a great disposition and will meet you at the gate for scratches. Riggins is a beautiful mover with a naturally level head set at all gaits. He has a great stop and handle. Riggins has a super smooth and rhythmic trot and lope that is very showy and athletic. When asked to stop, he will stand still until asked to walk on. He would be great in a AQHA Ranch Riding class.
Riggins has been used on the ranch to push cattle and check the broodmare band. Riggins has been started in the roping. He has roped the sled a little bit. He has been used in the local sale barns, as well.
Riggins is great on the trail! He is good minded and does well on any kind of terrain. He will cross downed logs and water with no issues.
Riggins is 100% sound and has no vices. He is easy to load in the trailer and to shoe. He stands quietly when tied. This gelding has unlimited potential as a performance horse prospect in the roping or ranch riding- or enjoy him today as a trail horse!
If you have any questions about Riggins please contact Jared at 563-543-6355. If you are looking for more photos and videos of Riggins make sure to check out our website at www.jaredmeyerperformancehorses.com or our Facebook business page. We would like to invite you to our ranch in Bernard, Iowa to meet and ride Riggins. We have miles of trails to try him out on!
Request Information!
---