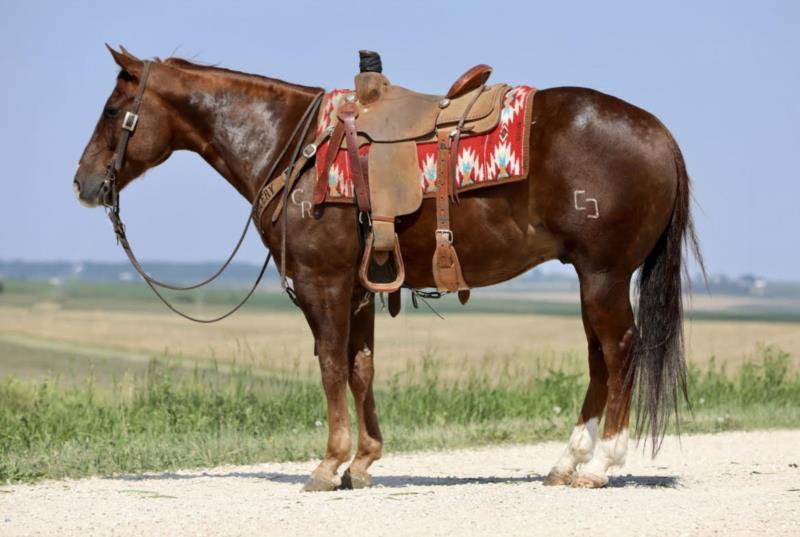 Rope, ranch or make him your next performance horse! Cat (MW AmericanBlackCat) is a gorgeous, sorrel gelding! He stands perfect size at 15 hands and is that been-there-done-that age being 7 years old. Cat has High Brow Cat and Dunit Rawhide on his papers. Cat is very well-balanced and has a ton of muscle and shape. He has an all business personality.
Cat has a soft and comfortable trot and lope. It is incredibly smooth! He has a quick, correct spin and listens well to all cues. He is very athletic and willing to please. Cat is very smart and fun to ride. He is one you don't want to get off of!
Cat is well started in the heading and heeling and is consistently roping steers out of the box. He has all the talent you would want! He is very athletic and willing to please. He will make a big time rope horse in a short amount of time!
Cat has been ridden in the woods, in the river and even along the road, as well. Cat is one of the best horses to ride outside! He has been ranched on and been used to push cattle and to check the broodmare band on.
Cat is 100% sound. He hops right on the trailer and is good to haul. He will stand tied for hours with no issues. If you have any questions about Cat please contact Jared at 563-543-6355. If you are looking for more photos and videos of Cat make sure to check out our website at www.jaredmeyerperformancehorses.com or our Facebook business page. We invite you to come ride him at our ranch in Bernard, Iowa. We have cattle and miles of trails to try him on!
Black Cat will be offered at the Rancho Rio Horse Sale in Arizona in March 2024.
Request Information!
---