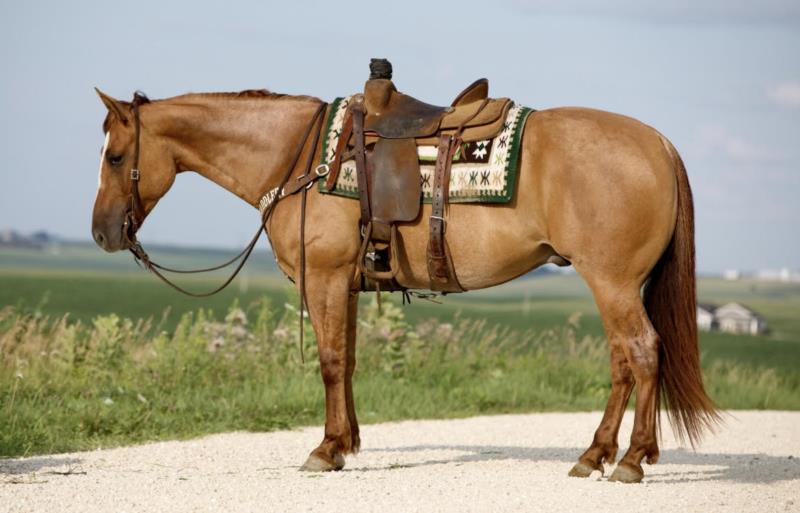 SOLD!
Twister (Helmans Twister Joe) is a ranch and trail horse that is well started in the heading! He is the perfect age being right at 5 years old. He stands 15 1/2 hands tall. Twister is a unique red roan color with dun markings and has a beautiful blaze face. He is personable and very easy to get along with. Twister is extremely big boned and built to last with large, black hooves. Twister has been used extensively in the feedyard and working outside on the ranch. He has had a lot of cattle roped off of him. He has been started in the heading out of the box and is coming along great. Twister is very level headed and confident. We haven't found anything that bothers him. We have rode Twister on slick and even rocky ground and he knows how to keep his feet underneath him. He is good on the trails! With his laid-back personality, Twister would make someone and awesome trail, ranch or rope horse. Twister has never offered to buck. He is 100% sound, has no vices, hauls well and is good when turned out with other horses. If you would like to learn more about Twister please give Jared a call at 563-543-6355. Also, visit our website for more information and photos. We welcome you to come meet and ride Twister at our ranch in Bernard, Iowa. We have cattle and plenty of trails to try him out on.
Twister is consigned to the Horseman's Mission Select Sale in Millersburg, Ohio during the Horseman's Mission annual event! The sale is Saturday, October 21st, 2023! If you can't make the sale in person, the sale will be live-streamed and there will be phone and online bidding available! Here is the link to the sale website for any questions you might have: https://www.thehorsemansmission.com/select-sale
Request Information!
---