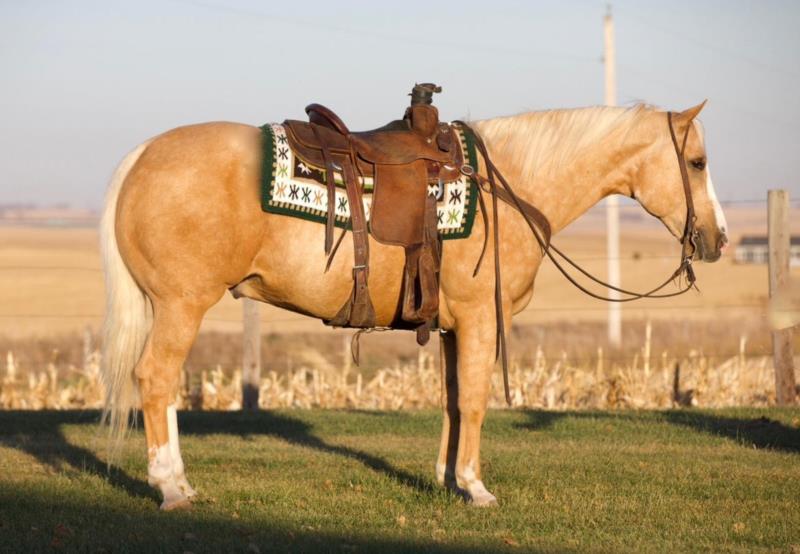 SOLD!
JT Reflection Docbar (Tequila) is a beautiful, 5-year-old, AQHA palomino gelding! Tequila stands 15.2 hands and weighs 1250 lbs. Tequila has a very attractive head with a big blaze, four white socks, big hip and a lot of hoof and bone. He has an awesome handle and great one hand neck rein! He responds really well to leg cues, as well! Tequila is a blast to ride and anyone can get along with him! Tequila has been used for all kinds of ranch tasks. He has been roped on a lot outside and has been used to drag calves to the fire. He is great on the trails and very solid. He has no vices and has been on our farm for over a year. We have left him off for months and hoped on him and he rides off like he never even had time off. He is smart and talented but also as gentle as can be. If the rider knows even a little bit about riding you can get a long with this horse! Tequila would make an outstanding rope horse, ranch horse, trail horse or one to go show in the ranch riding/versatility classes.
**After we bought Tequila- he got a cut on his hip. He then proceeded to rub the cut and it expanded. He now has a scar on the top of his hip and a small one on the other hip. Pictures of the scar are included in the post. He was a horse we intended to take to a premier sale because of his looks, demeanor and level of brokenness.
If you have any more questions or just want to learn more about Tequila give Jared a call at 563-543-6355. We would be happy to help arrange trucking anywhere in the U.S.!
Request Information!
---