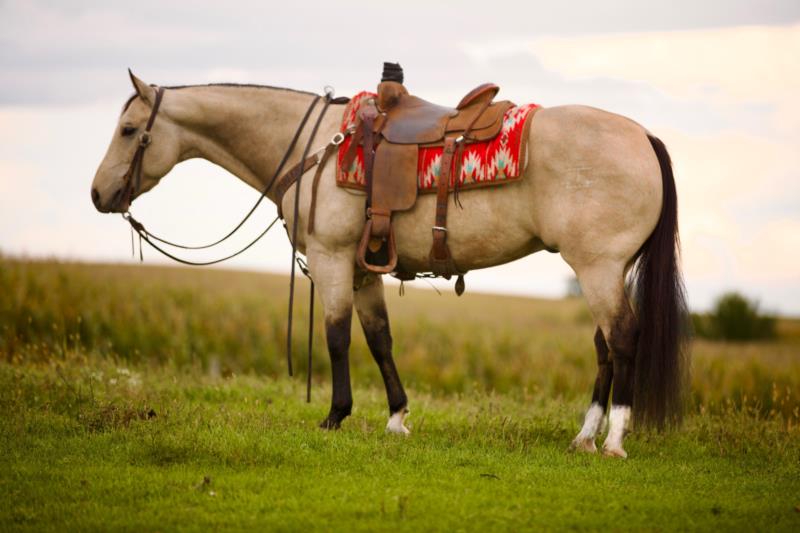 HF Boss (Boss) is the absolute WHOLE package! Boss is extra gentle, extra broke and extra safe! Boss is the perfect age being 6 years old and is the perfect height standing right at 15 hands. Boss is a gorgeous buckskin color with a beautiful and refined head and three white socks. Boss is impeccably bred! He is a son of HF Mobster (LTE of $123,500 & 2013 NRHA Derby Champion) out of a daughter of Wimpys Little Step. Boss has awesome stops, perfect turn arounds and effortless lead changes. He holds his head perfectly level at all gaits. Boss has an extremely smooth lope and jog. Boss has been shown in the reining and is a NRHA money earner. Boss would be a knock out at the AQHA Ranch Riding and Ranch Versatility classes. He is extremely showy and has a lot of presence in the ring. Boss is also tremendous out on the trails and on the ranch. He has been used to check cattle and check on the broodmare band. He will ride out alone or with a group. He has been through all the trail obstacles and does very well. Finally, Boss has been lightly started in the roping. He has roped loose cattle and is started on the roping dummy. Boss is a incredible horse and one of the very best we have ever offered. He has the best personality, is trustworthy, and is safe for novice riders on up. Our 7-year-old has had the time of his life with Boss. He is 100% sound and has no vices. He is easy to shoe, bathe and haul. Please call Jared at 563-543-6355 with any questions you might have on this exceptional gelding.

Boss is consigned to the Diamonds in the Desert Horse Sale in Las Vegas, NV on December 8th, 2023. There will be online and phone bidding available for the sale. The sale will also be live-streamed. Please visit the Premire Horse Sale website for any further information on the sale or give Jared a call.
Request Information!
---